MDU Spaces
Integrated smart technology that's simple to use enhances your entire New York property including common areas, theaters, amenity services, and residences. Depending on your unique needs, Integrated Electronic Solutions creates a commercial automation system offering control of one or multiple sub-systems with access from centralized, localized or a combination of locations. Set your development apart and put your company a step above in operational efficiency and the experience for residence owners and visitors. You have the option to start a system in one area or a few areas and expand later including providing an upgrade path for the residences. Explore the possibilities.
Residences
MDUs and developments delight and impress residents and prospective buyers with smart home automation services incorporated into each unit. Imagine a system that recognizes when an owner's car enters the parking lot and the unit's home control automatically activates a "Welcome" mode, which adjusts temperature, entry lights and a selected music playlist. In the residence, owners control lights, shades, entertainment, energy management, temperature, security systems and more all from a sleek touch screen, smart phone or tablet. When they leave for work in the morning and tap the "Away" setting, all lights turn off, doors lock, temperature is set, shades lower to protect interiors, and non-essential devices are powered down. We offer an array of MDU resident solutions that bring more comfort, convenience and the wow factor.
Common Solutions
Smart Home Technology

Audio / Video

Lighting Control

Motorized Window Treatments

Climate Control

Security
Theater / Media Room
Maximize a shared entertainment system whether the amenity is a custom home theater system or an exhilarating and multi-functional media room. Offer residents a home theater in which the environment is precisely designed and engineered to provide maximum movie and music enjoyment. Room geometry and acoustics play an important role for a true theater experience. Cozy up on plush seating positioned specifically for the ultimate viewing experience on the big screen. Lighting is also controlled so with the press of a single button, the lights dim and the show begins. Press pause and lights dim up so you can get more popcorn and soda.
Common Solutions
Integrated Room Technology

Home Theater

Home Media

Audio / Video

A/V Calibration

Lighting Control

Acoustics
Amenity Service
Simplify residents' lifestyles by delivering a variety of services with one-touch instant access. Requests for car valet, reserving pool chairs, tennis courts, restaurant and club reservations, ordering meals, groceries, cleaning, and concierge services are made via an easy-to-use touch screen or their smart device. Streamline and make building communications more convenient for package deliveries, event announcements, and maintenance updates with integration on the same amenity service system and user interfaces. This luxury-hotel type of service is a real differentiator and competitive advantage for MDUs and developments.
Common Solutions
Smart Building Technology

Integrated Building Technology

IT / Telecommunications

Networking

Cloud Computing

Paging / Messaging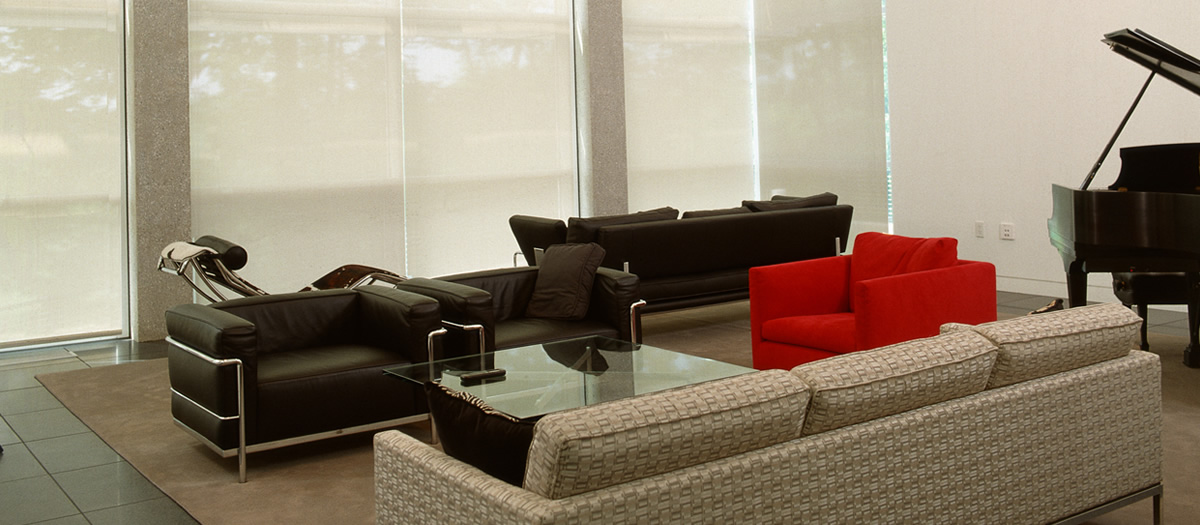 Common Area
Commercial automation technology enhances resident and guest experience giving your New York development a luxurious differentiation and improving efficiencies for building management. Set ambiance in common areas with easy control of lights, window treatments, music, video, and HVAC. Staff can intuitively adjust lobby areas, meeting rooms, and fitness centers with one button press or let settings change automatically based on day, time and sensors. Develop an energy efficient building that optimizes lighting and climate with real-time monitoring and reporting on usage and schedule maintenance from a centralized touch screen.
Common Solutions
Smart Building Technology

Integrated Building Technology

Lighting Control

Climate Control

Energy Management

Audio / Video

Acoustics